The dream for Kentwood Young Life was rekindled in 2013 as Mayor Stephen Kepley was running for office. He was campaigning door-to-door in the Kentwood community when he met Kori and Julie Youngblood. After some small talk about the city, the Youngbloods brought up the subject of Young Life.
"If you can get Young Life started in Kentwood," they said to Kepley, "we'll vote for you."
Mayor Kepley was stunned. He knew Young Life well and loved the ministry, having been involved as a teenager himself.
He thought back to the summer of 1984 when he served on work crew at Windy Gap after he graduated from high school. He recalled with great joy working the ropes course that summer and how he had kept in touch with a few friends he met there.  
Fast forward thirty years from that memorable summer of 1984. Mayor Kepley and his wife were still working with and mentoring youth in both church and educational settings.
"The best investment we can make is in the next generation," Kepley believes. "Young Life is perfect for that. Young Life does it extremely well." [click to tweet]
"I'll see what I can do," was the Mayor's response to the Youngbloods. The vision to bring Young Life back to Kentwood was ignited.
A call to the Young Life national office back in December of 2015 connected Mayor Kepley to Western Great Lakes Regional Director Chris Theule-VanDam and Greater Grand Rapids Associate Regional Director Matt DeHoog.  
They met together at Arnie's with one question in mind: "How do we get a Young Life club started at East Kentwood?"
Young Life isn't a new thing for the Kentwood community.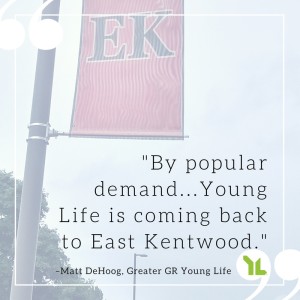 "Young Life has an amazing history of decades of ministry at East Kentwood High School," says Matt DeHoog who directs Young Life in greater Grand Rapids. "By popular demand from students and community members, Young Life is coming back to East Kentwood. The community and families are joining together to rebuild this club." [click to tweet]
Kentwood also has a rich cultural diversity. At East Kentwood High School over 60 different countries are represented and around 70 languages spoken within the student body of over 2600 students.
Because of this, Mayor Kepley felt that structuring club at East Kentwood like a multicultural club would help it flourish, so he paid a visit to Grand Rapids Urban YL club.
Soon after that, God intervened in yet another astounding way by bringing JR and Natalie Roberts onto the scene in Kentwood.
JR and Natalie, both graduates of Moody Bible Institute, had been serving with Young Life Urban/Multicultural in Chicago. Since 2011, Natalie had been involved as a YoungLives intern, had served as a volunteer leader with YL at Sunshine Gospel Ministries on the southside of Chicago and most recently was a team leader at YL Rogers Park. JR ran a Young Life club for youth involved with gangs.
They recently moved back to Grand Rapids to be closer to family after the birth of their son. But God may have been drawing them back to Grand Rapids for other reasons as well.  
"To me, that was an early sign that this was God," remarked Mayor Kepley.
Knowing that East Kentwood Young Life would be similar to an urban type of ministry, it seemed like a perfect match to have a couple like the Roberts moving into the neighborhood with experience in urban ministry.
Both Natalie and JR have rich backgrounds in urban and multicultural ministries and both bring with them experience and wisdom leading urban Young Life clubs.
This fall, Natalie will take on a part-time position for Kentwood Young Life. In the meantime, Natalie and JR are interviewing potential leaders with hopes of having eight or more volunteer leaders in place by the start of the school year.
"East Kentwood is a large school and very diverse. The more leaders we can place the more kids we can reach," said JR.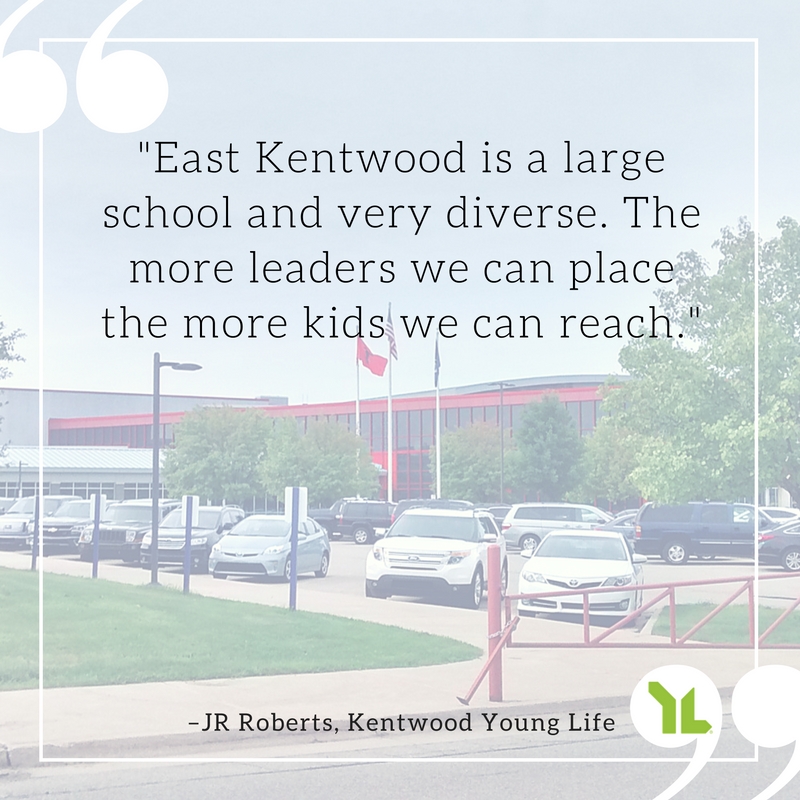 Their short term goal is to reestablish a club at East Kentwood High School by October and to equip leaders who will build relationships with students in order to have an active club. Longer term dreams include having a WyldLife (middle school) ministry as well as Capernaum Club (for kids with special needs).
Right now, the Roberts are also working hard at building a healthy committee and leadership team, sharing the amazing story of Young Life in Kentwood and raising funds to hire staff. Currently the leadership team is led by committee chairperson, Pam Jackson. Mayor Stephen Kepley remains part of the leadership team with the Roberts and twelve others.
A Dessert Social is being planned for Monday, August 29 from 6:30-8:30pm at Kent District Library (Kentwood Branch) in hopes of sharing the mission of Young Life, sparking interest and raising funds to support Young Life activities at East Kentwood this fall. This event is free to the community. More information can be found here.
---
>> DID YOU KNOW?

Back in 1986, 48 East Kentwood students went to camp at Castaway Club.

Vancouver, British Columbia was the farthest and most exotic second timer trip for East Kentwood Young Life. Six EK students spent a week sailing in the Puget Sound/Pacific Ocean.

>> WILL YOU RESPOND?

Join us in praying for Young Life in Kentwood as it rebuilds.

Come and see what God is doing at East Kentwood High School by following them on facebook

here or attending the dessert social.

Share this post with your friends using the social media icons below or subscribe at the top of the page to receive notifications in your inbox whenever there is a new post.