When Chris Hall, a pastor and church planter from Wyoming, MI, first heard about Young Life, he called it "an answer to prayer."
Chris Hall serves as the preaching and teaching pastor at Elevation Church, a new but growing church plant located near Wyoming's Lamar Park. Hall and his wife have called Wyoming home their whole lives. The Hall's three children are now the fifth generation to grow up in and love the city
As the largest suburb of Grand Rapids, the city of Wyoming is also one of the fastest growing cities in the state of Michigan. There are seven school districts in the city of Wyoming. The halls of these schools are filled with hundreds of adolescents who reflect the diverse neighborhoods they come from.
Elevation Church had been praying for opportunities to engage with the local schools ever since their beginning when they held weekend services in the local junior high school. At that time, they observed a spiritual need in the schools and saw a huge opportunity to bring the Gospel to young people.
Meanwhile, discussions about starting Young Life in Wyoming had been taking place between Matt DeHoog, Young Life's Associate Regional Director for Kent County, and Eric Zoodsma, Area Director for Grand Rapids SouthWest Young Life. Matt invited Chris Hall into the conversation; it didn't take much for Chris to jump on board.
"Matt began to walk me through the basics of Young Life," Chris described, feeling as though Matt was "speaking his language."
"Instead of reinventing the wheel, why not join this Young Life thing," was Chris's first thought.  
This connection wasn't accidental. God was clearly at work in this startup process, pulling the right people together. "We are just stepping into what God is already doing," shared Chris.
To establish a Young Life presence in the Wyoming schools, Grand Rapids SouthWest YL took a step and hired Rebekah Blair to serve as Mission Staff for Wyoming.
Rebekah joins her husband Casey Blair, who already serves on Young Life staff in the same area. Previously, the couple served Young Life in the Kalamazoo area while studying at Western Michigan University. In this new role, Rebekah will focus on starting up new clubs at both Lee High School and Wyoming Middle School.
"Young Life meets kids where they are," Rebekah shared when asked what Young Life is all about.
Instead of waiting for students to show up where we are, we go to them and get to know them in their own space, whether that's at lunch, sports games, or before school. Students don't have to go out of their way to make our program work, we meet in their neighborhoods and in their schools. I think there's a lot more authenticity because we're going into their spaces," she continued.
As Young Life works to get its feet on the ground in Wyoming, Rebekah and others are praying for leaders to step up—leaders with both a passion for the community and a commitment to seeing kids come to know Jesus.
"Historically, we've not been a community that breeds leaders," reflected Pastor Chris. "We tend to be the ones who carry a lunch bucket to work and leaders tend to come [to us] from other communities. They have some tie to the city, but don't live here."
Those from the community who have heard about Young Life seem eager to embrace the model of relational ministry. The hope is for more churches in Wyoming to be open to the idea of coming together to reach more kids at Wyoming Middle School and Lee High School.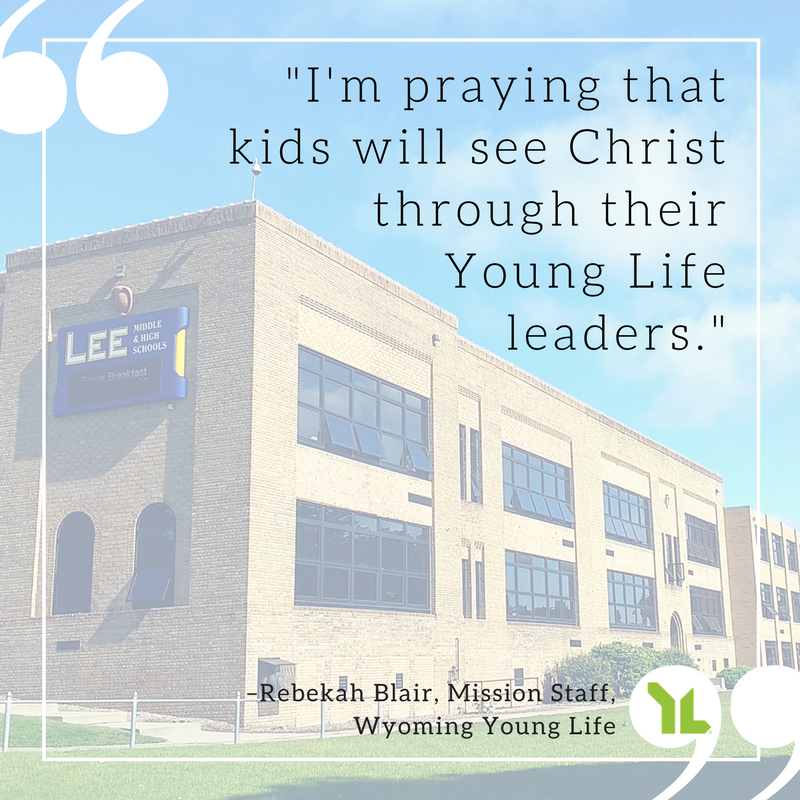 "I'm praying that kids will see Christ through their Young Life leaders even before we start running club," added Rebekah. 
Wyoming Young Life has plans to have leaders walking the halls of both schools by Fall of 2017.
For more information about the partnership between Elevation Church and Young Life in Wyoming, click here. To partner with Wyoming Young Life financially, click here.
You can follow along with Young Life in the Grand Rapids SouthWest areaon facebook.
"The big deal is we think the power is in us individually. The power is in us collectively. It is in the church." – Dr. John Perkins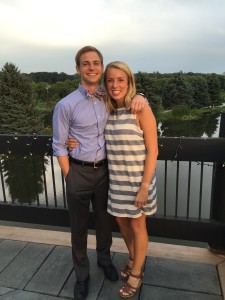 More about Rebekah Blair: Rebekah is from Bloomfield Hills, MI where she attended Southfield Christian School. She is a graduate of Western Michigan University with a degree in Organizational Communication, though she says the best part about Western was meeting her husband, Casey. In her free time, Rebekah enjoys hanging out and talking with friends, reading, eating and being outside (preferably by a lake).
Welcome, Rebekah! We give thanks for how God has prepared you for this role with Wyoming Young Life and are excited to see His Kingdom grow through your leadership and ministry.