Meet Jenna Perkins. Jenna is the new Area Director for Central Grand Rapids Young Life, an area that has active clubs in the East Grand Rapids Schools and Grand Rapids Christian Schools, as well as a YoungLives ministry for teen moms in the Godwin Heights, Wyoming and Kelloggsville schools.
Jenna comes to this position with over ten years of experience on Young Life staff, in addition to a lot of passion, vision, and creativity.
Matt DeHoog, the Associate Regional Director for Greater Grand Rapids shared this: "Jenna is a proven leader who has a unique drive to connect with people. She is caring, engaging, and a team builder. She will do well sharing the story of what God is doing through Young Life with people in these communities. She also has the capacity to build strong leadership teams to go out into the world of middle school and high school students. I think she's a great fit for what this area needs."
Jenna's passion for connecting with others goes back to her time as a high schooler in Champaign, Illinois. She remembers Young Life leaders investing in her by taking her out for lunch, hanging out at her house, and opening God's Word with her in Campaigners. It was so obvious how her leaders exuded the love of Christ in all they did. These relationships made a lifelong impact on Jenna.
This is what Young Life is all about. Caring adults stepping into the world of adolescence and doing pretty basic (though often intimidating) things like eating lunch, hanging out and showing up. And they do this never really knowing what the outcome might be. Chances are, Jenna's Young Life leaders never imagined she'd go on to join Young Life staff one day.
Following High School, Jenna moved to Indianapolis to attend Butler University to study Elementary Education. She remained involved with Young Life throughout college. After graduation, instead of pursuing a career in teaching, Jenna decided to join Young Life staff, which, according to her, was the best decision she ever made.
Jenna's first role was running WyldLife (Young Life's ministry for middle schoolers) for Carmel Young Life, and later went on to serve as the Area Director there.
Two years ago, when Jenna and her husband Kyle moved to Michigan for his job, Jenna joined the Eastern Ottawa Young Life team where she was involved in training and developing leaders and also led Young Life at Grand Valley State University.
When asked what she loves about Young Life, Jenna reflected on the relational approach to ministry: "I have so many memories of important, life-changing conversations with kids which took place over meals, at camp or at Campaigners. I love that Young Life creates deep and important community among kids, leaders, and committee. It's this community and the lifelong relationships that help kids meet Christ."
"I am honored and eager to join the Central Grand Rapids Young Life team," shared Jenna. "I hope to make Young Life and WyldLife a place that all kids feel welcome, secure and loved no matter what state they are in. I want to be reaching kids that won't be reached any other way."
When Jenna dreams about the future of Young Life in the Central Grand Rapids area, she sees a ministry that reaches all kids, but especially disinterested kids. She dreams of Young Life being part of high school homecoming parades. She sees kids proudly wearing Young Life t-shirts around town. She envisions Young Life club outdoors at Collins Park and people opening their homes for regular Young Life lunches.
Will you help these dreams become a reality by praying for Jenna in her new role as Area Director and for the entire Central Grand Rapids Young Life team of staff, leaders, and volunteers? And if you live in the Central Grand Rapids area, please contact them to get involved.
Please join us in welcoming Jenna Perkins to Central Grand Rapids Young Life!
---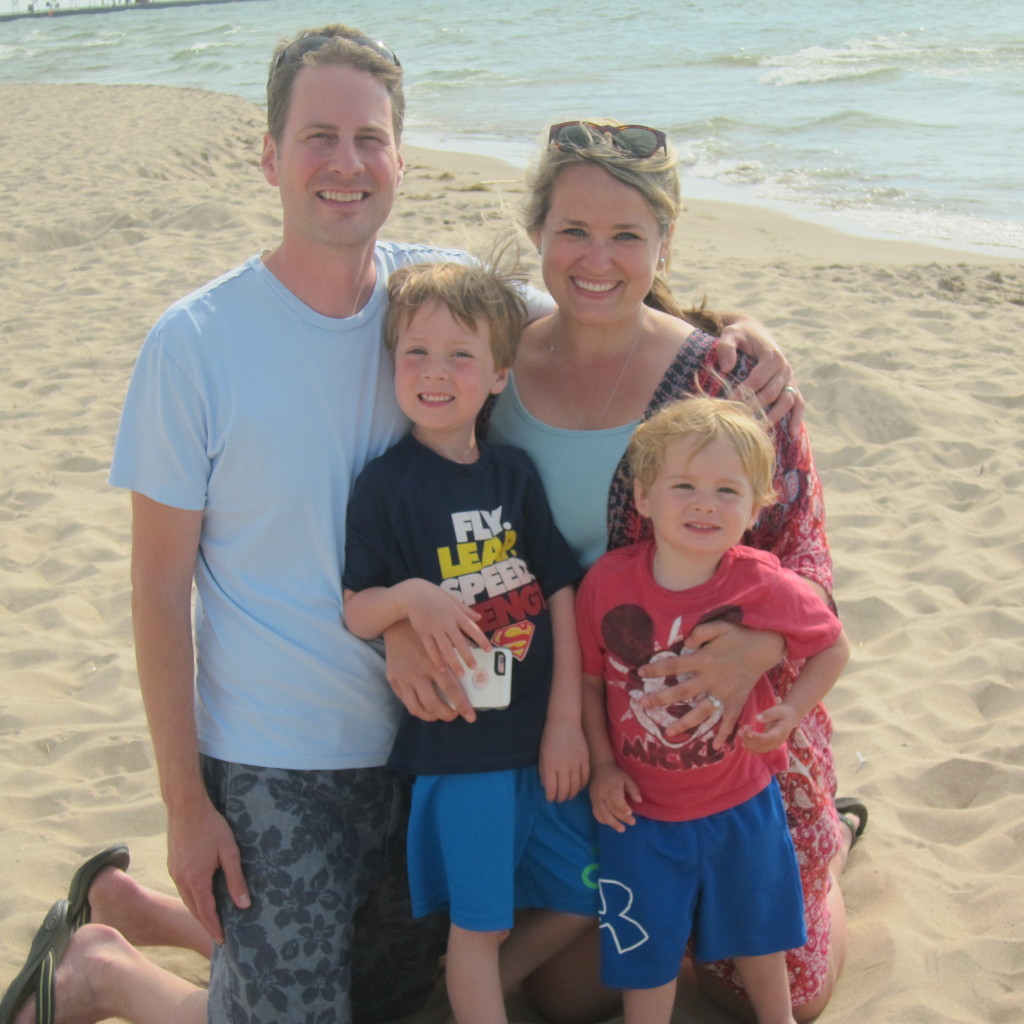 A little more about Jenna and Kyle Perkins—
Jenna met Kyle when he was a volunteer YL leader in Indianapolis. Their first date was a blind date set up by some mutual friends. The rest is history. Kyle is a guidance counselor at Forest Hills Central High School. They have two adorable little boys, Luke (5) & Bennett (2), who keep them busy, laughing & filled with joy. Jenna takes delight in being outdoors and near water, especially if it's on a boat or water skiing. She also enjoys reading and being creative with home projects, decorating, crafting. Kyle and Jenna enjoy gathering people around the table in their home for dinner, whether it's a good home-cooked meal or pizza. And lastly, Jenna's claim to fame is that she grew up next door to Jimmy John—Yes, THE Jimmy John subs.