"God has given us the task of telling everyone what he is doing. We're Christ's representatives. God uses us to persuade men and women to drop their differences and enter into God's work of making things right between them."
—2 Corinthians 5:19-20 (MSG)
---
W E L C O M E
---
We hope this 2017 Regional Update will provide you with brief snapshots of the ministry taking place throughout the western half of Michigan and northwest Indiana.
If you've been following our social media pages this month, you might have noticed that every day we posted a brief snapshot from each of the 30 Young Life areas that make up the Western Great Lakes Region. If you missed some or all of them, you'll find them all here in this post.  
So take a seat, and enjoy viewing this brief regional update. You might even catch yourself making comments throughout like: "Yes!" "That's awesome!" "Way to go, God!" or "Thank you, Lord, for all you are doing!"
We hope you will be encouraged by the stories of transformation and growth you see here. Know that these stories represent the stories of hundreds more middle school, high school, and college students which we can't even begin to share in one blog post. There's no doubt God is at work right here in our little corner of the world.
Come and see what we've been up to throughout the year by the grace and guidance of the Lord.
(Note: If the slideshow doesn't begin automatically, click on the play arrow.)
---
C U R R E N T  N U M B E R S
---
Currently, the Western Great Lakes Region is made up of…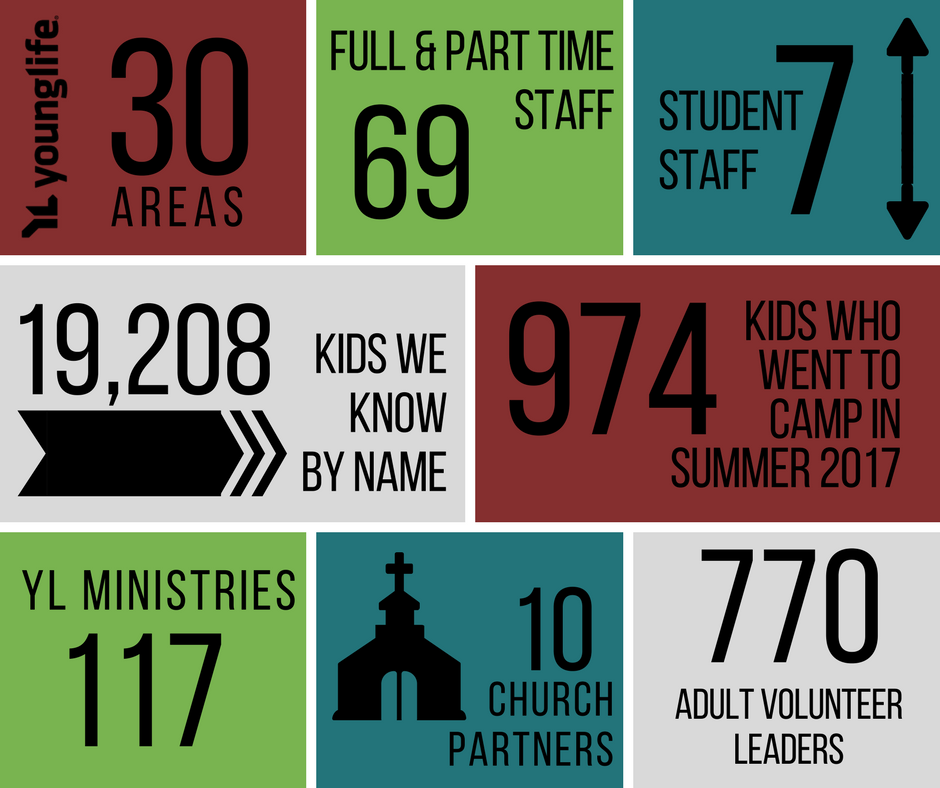 ---
O U R  V I S I O N
---
We dream of seeing Young Life in every county in our region by the end of 2022. Right now, Young Life ministry exists in 18 of the 36 counties in our region. We are praying for Young Life ministries to begin in the following current and developing communities:
Battle Creek, MI
Berrien Springs, MI
Cedar Springs, MI
East Jordan, MI
Elkhart, IN
Fennville, MI
Grand Rapids Center for Community Transformation
Houghton, MI
Iron Mountain, MI
Lake City/McBain, MI
Lake Superior State (Young Life College)
Lowell, MI
Manistee, MI
Marquette, MI
Michigan Technological University (Young Life College)
Niles, MI
New Buffalo, MI
---
 T H A N K  Y O U
---
Thank you for the many ways you celebrate with and cheer on the mission of Young Life. What a joy it is to be serving on this mission field with the encouragement, partnership, and prayers of people like you!
Chris Theule-VanDam
Regional Director
Western Great Lakes Young Life