Reflections on Ten Years as Regional Director—Then, Now & Moving Forward
Editor's Note: Chris Theule-VanDam is celebrating ten years as Western Great Lakes Regional Director. We asked him to reflect on this significant milestone and where he's seen God at work throughout the past ten years.
---
Ten years ago.
It was 2008 when I became the Regional Director for Young Life's Western Great Lakes Region. The region at this time consisted of 13 (ten staffed and 3 volunteer-led) areas and we had a total of 80 clubs around the region.
As you may remember, ten years ago we were in the middle of a national recession and it was a hard time for everyone—individuals, families, businesses, and those of us in the non-profit sector.
As the economy went into a downturn, every one of our areas felt the pinch in one way or another. But thanks be to God, we did not lose any ministries during these 4+ years of financial difficulty. We were able to maintain the current ministry until it was time to grow.
Our focus during these difficult years was on going deeper in our existing ministries. But as the economy slowly rebounded, we were able to see God's faithful hand opening doors and leading us into many new and exciting directions.
Fast forward to today.
In the past ten years, our region has grown from 13 to 32 areas. Some of these newest areas include Marquette (the first-ever YL ministry in the Upper Peninsula!), Little Traverse Bay, Grand Traverse, Lake City, Lakeshore, Northwest Grand Rapids, Rockford, Kentwood, Grand Rapids Center, Middleville, Hastings, Hopkins, and Harbor Country.
We have grown from 80 to 129 ministries. You can find all our Young Life ministries here.
Another notable change in the region today is the development of a unique staffing structure to meet the needs of our ever-growing region. We now have a Regional Leadership Team consisting of 10 Young Life staff.
It began in 2013 when the region hired an Associate Regional Director (ARD), Kevin Eastway, who was tasked to oversee our volunteer areas (areas that did not have any full-time staff). Two years later, Matt DeHoog joined the regional team as ARD of Greater Grand Rapids, providing leadership for the existing and expanding ministry in Kent County. Next, we sensed a growing need for more clubs in Southwest Michigan so Mike Bredeweg transitioned into an ARD role to develop new ministries in our southern counties. And most recently, Erin Iafrate will take on a part-time ARD role as ministry expands in northern Michigan.
In addition to these ARDs, we have regional staff serving in specialized ministry roles like regional trainers, admins, communications director and Capernaum, and YoungLives coordinators. You can get to know each of them here.
But some things never change.
While it's exhilarating to see this growth over a ten-year period, there is something grounding to take note of what hasn't changed in ten years.
One thing that hasn't changed is Jesus Christ and the Gospel message we have the privilege of sharing with adolescents. When I started in 2008, Hebrews 12:1-3 was a pivotal passage for me and remains so today:
"Therefore, since we are surrounded by such a great cloud of witnesses, let us throw off everything that hinders and the sin that so easily entangles. And let us run with perseverance the race marked out for us, fixing our eyes on Jesus, the pioneer and perfecter of faith. For the joy set before him he endured the cross, scorning its shame, and sat down at the right hand of the throne of God. Consider him who endured such opposition from sinners, so that you will not grow weary and lose heart."
Another thing that hasn't changed is our focus on kids. We are still 100% committed to kids—to meeting them on their turf, knowing them by name, building authentic friendships, inviting them to consider Christ, and loving them regardless of their response.

There are hundreds of thousands of kids in our region and today we are impacting 22,109 of them.
While we aim to be innovative with our methods to remain relevant with the changing times, our mission of introducing adolescents to Jesus Christ and helping them grow in faith hasn't changed.
Pressing Forward.
When I dream about the future of Young Life in the Western Great Lakes Region, a few key things come to mind. First, we want to have diversity and multi-ethnic ministry as a focus, for me, and for the region. Our goal is to live multiethnic lives. Will you partner with us in prayer that the WGLR would grow in reflecting the beautifully diverse Kingdom of God?

Second, we want to see Young Life in EVERY COUNTY. There are 35 counties in our region and we are just over halfway there! We are praying for Young Life to start in the following counties:
Cheboygan County – Interest Meetings are happening
Mackinac County – Conversations happening, connect to the Cheboygan interest
Antrim County – Nothing currently
Kalkaska County – Nothing currently
Benzie County – Conversations happening
Manistee County – 2 Interest Meetings we held this fall
Mason County – Conversations happening
Lake County – Nothing currently
Osceola County – Conversations happening with Muskegon River Youth Home
Oceana – Nothing currently
Montcalm County – Nothing currently
Ionia County – Conversations happening with Sunny Crest Youth Ranch
Calhoun County – Nothing currently
Cass County – Nothing currently
St. Joseph County, MI – Nothing currently
La Porte County, IN – Nothing currently
Elkhart County – Conversations happening; Need a Team Leader
Will you partner with us in prayer for Young Life to begin in every county in our region? Will you also pray for the ministry to grow in our existing areas?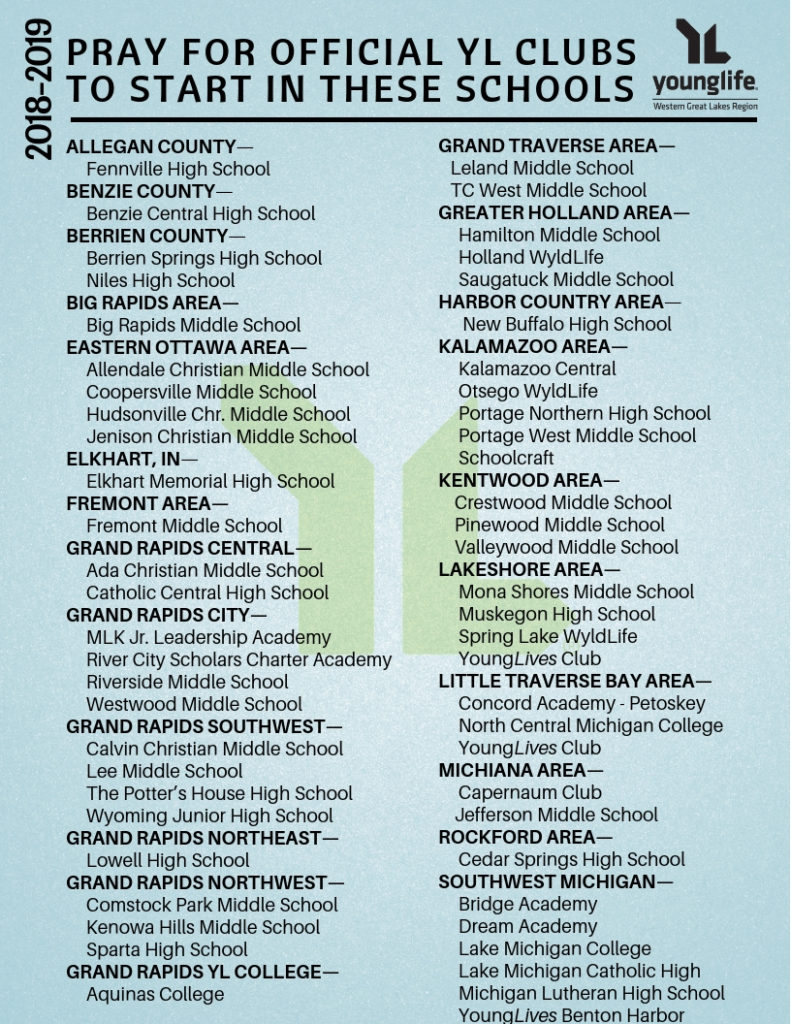 Lastly, we will continue to pray at and for every school in the region. This is something we've done in the past and hope to continue with. There are 480 schools in the Western Great Lakes counties. Will you partner with us in prayer for each of the high schools, middle schools and college campuses in the WGLR? A good place to start is by praying for the school closest to where you live. 

Looking back we can point to time after time where God was at work. God has been faithful over the years, His Spirit is at work all around us and will continue to lead and guide us. Thank you for your continued prayers, support, and work so that kids across the region can be introduced to Jesus and grow in their faith.
---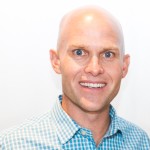 Chris Theule-Van Dam is the Regional Director for the Western Great Lakes Region of Young Life. He loves Young Life's focus on Jesus and how it connects with kids through caring Christian adults. He's been in Young Life since high school in the 80's and has been in some sort of leadership role since 1989: Volunteer Leader, Volunteer Team Leader, Church Partner, Area Director, and now as Regional Director. Read more.