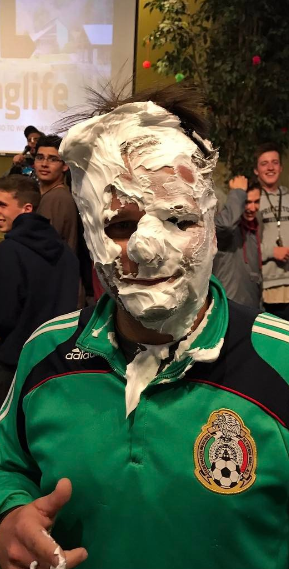 Just over a month after being hired as the new Area Director for Greater Holland Young Life, Chris Hofland was feeling the love and welcome from local high schoolers at club one night as they happily decked their new AD in the face with pie.
Thankfully, Young Life's crazy club antics aren't new to Chris. He's been on board with the mission of Young Life ever since he was a high school student himself who went to club and earn his way to camp by painting a YL leader's house.
Chris, who grew up as a pastor's kid, says that Young Life helped reinforce the importance of having a relationship with Jesus Christ and inspired him to share his faith with others.
"In my adult years I've been able to volunteer as a head leader at fall weekends as well as flip pancakes for WyldLife," said Chris, a Hope College graduate who has called Holland his home since moving from Iowa at the age of five.
Chris is well-suited as Area Director in Greater Holland Young Life not just because he can take a pie in the face or flip pancakes for hungry middle schoolers.
His knowledge of the community, strong network, and passion for building authentic relationships will be a great asset to a Young Life area which holds the record as the largest YL area in the world.
"I would not be in this position if Young Life was not rooted in relational ministry," shared Chris. "Young Life provides space for eternal relationships to be developed as we introduce kids to the incredible truth of Jesus Christ and invite them to see how to live it out. Young Life truly is an authentic place for discipleship whether you are a student, leader, or staff member."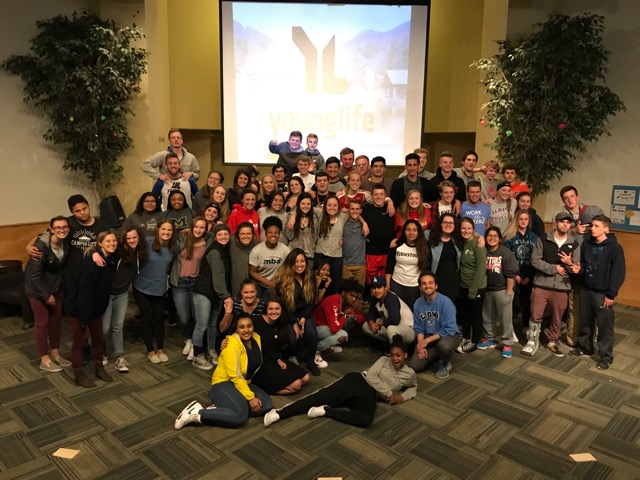 Those who know Chris speak of his engaging personality which creates enthusiasm and energy wherever he goes and in whatever he does.
Jerry and Dana Root, long-time Holland Young Life supporters who have known Chris for many years, are excited to see how God will use him in this new season of leadership. They shared this: "His mission-minded heart will inspire Holland area Young Life to grow into new ways of being used for God's Kingdom."
The Greater Holland Young Life Committee wrote this in an announcement made to their area last month:
"Chris has a great love for Christ, an extensive history of teaching, coaching and ministering to youth. We are excited to have Chris on staff and look forward to his leadership."
Chris's array of work experience includes teaching for Holland Public Schools and then serving as Local Missions Pastor at Central Wesleyan Church, among other community involvement. These experiences have more than equipped him for this new role.
"Both of these roles have given me access to falling in love with our community and developing meaningful relationships," Chris reflected.
Dr. Brian Davis, Superintendent of Holland Public Schools, commented: "He has demonstrated the servant heart and character needed for a position such as this. As a former educator, he also understands the critical importance of building relationships, mentoring and supporting young adults to be successful in school and in life. Filling the shoes of Jay Lindell who has held this position for 25 years is a big responsibility. It is important that we have someone who can carry forward the mission and service of this very important work."
Chris's servant heart is a common theme from those who know him. And the fact that he is "all in" when it comes to serving the Lord with his life and work. His dynamic faith and passion are an inspiration for others to be "all in" too.
"My prayer is for each student to hear the truth of the gospel and experience a transformed life," shared Chris. "And for leaders to see how their faith journeys are most impacted through living out their faith through discipling students."
"My heart gets excited about being part of the lives of students being transformed by the incredible gospel of Jesus Christ. Seeing lives changed is powerful."
Please join us in welcoming Chris Hofland as Area Director for Greater Holland Young Life. We are thrilled to have him join the Young Life staff here in the Western Great Lakes Region.