Western Great Lakes Young Life is pleased to welcome another new staff member in the region: Christy Eifert, church partner at First Reformed Church of Zeeland. We wanted to share a little bit about Christy so you can get to know her and welcome her.
[Note: This article was first posted here and is printed with permission.]
---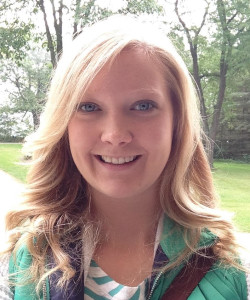 [First Church] is pleased to announce that Christy Eifert has accepted the Young Life Church Partner position and started on Sunday, January 17.
Christy comes to Zeeland from Mason, Michigan (southeast of Lansing) with a rich history of involvement in Young Life, both as a student and a leader. WyldLife and Young Life have shaped and molded Christy's life. Christy's relationship with Christ began as a result of her involvement in WyldLife as a middle school student, and her time with Young Life as a high school and college student has shaped and refined her faith. She attended Hope College for two years before transferring to Michigan State University, where she recently finished her degree in psychology.
While in college, Christy volunteered with WyldLife at Holland Christian for a semester, and then was a WyldLife team leader at Williamston Middle School after transferring to Michigan State. Christy has recently been an active member of Riverview Church in Holt, Michigan. In her spare time, Christy enjoys being outside, hiking, reading and watching movies.
The Young Life Church Partner position is a new one for First. This position will include a combination of Equipping and Evangelism ministries; Christy's time will be shared between ministry to students who are already active at First and outreach to students in the Zeeland community through the WyldLife program. Christy looks forward to getting to know the youth at First and in the community, sharing Jesus with them and walking alongside them as they grow in their faith.
Please welcome Christy warmly and be in prayer as she moves to the Zeeland area, begins her new role, and becomes an active part of First Reformed Church.
---
Zeeland is part of Greater Holland Young Life. They shared this recently: "We are excited to welcome Christy…She will be a great addition to the church staff as well as work with kids in the area through Zeeland WyldLife!" God bless you, Christy, in this new adventure.